Scanning
The whole process in orthopedics starts with a good scan
By taking a 3D scan of the body part, traditional casting is replaced. Speed and sustainability are significant advantages in this process. Scanning a body part is achieved within two to five minutes, without waste and without creating a messy working environment.
The 3D scan can be immediately used in the editing software. This creates a digital library of models, eliminating the need for a large stock of physical models. ShapeMakers offers various 3D scanners, each with its own advantages.
Structure Sensor Pro
Shining3D- Einstar
M4D Scan
Einscan H2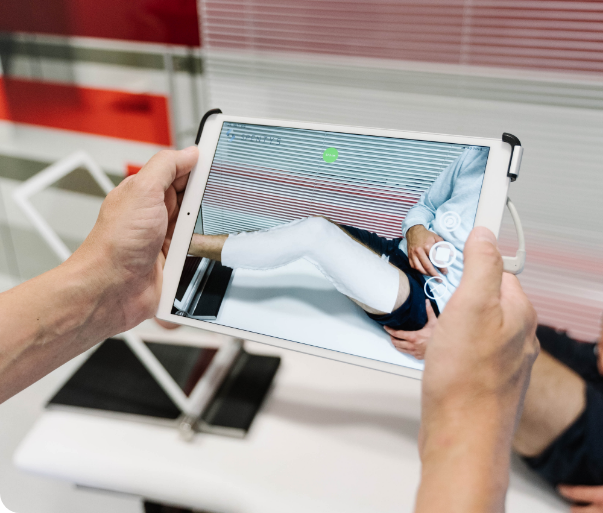 iPad
Structure Sensor Pro
The Structure Sensor Pro is an excellent choice for creating precise 3D scans of patients. Thanks to its powerful LiDAR scanner, the Sensor Pro can quickly and accurately capture the shape of body parts.
The freedom of movement during scanning allows even hard-to-reach areas to be easily captured.
Furthermore, the high-resolution color camera of the Structure Sensor Pro provides realistic color images of the scans, which can be important for visualizing markers such as bone points. The flexibility and user-friendliness of the Structure Sensor Pro make this 3D scanner particularly suitable for orthopedics.
Lees meer
3D scanners can be used to create a digital impression of a body part. With this scan, digital corrections can be made to create a custom-made mold, orthosis, or prosthesis.
Moreover, 3D scanners are employed to craft custom orthopedic aids such as braces, corsets, and shoe insoles. 3D scanners have thus become a crucial tool in orthopedics, providing accurate measurements and tailor-made solutions for patients.
Shapemakers offers various types of 3D scanners. There's a suitable solution available for every application and in different price ranges, tailored for each company's needs. Unsure which scanner is the best fit for your situation? We'd be delighted to demonstrate our scanners and provide comprehensive advice.
Discussing possibilities
To place an order with us, you need to have an organization account. Would you like to order orthopedic molds and/or 3D prints? We have our own order portal for our customers, where you can place orders and track their status.
Don't have an account yet? Please contact us to gain access to the order portal.