White Light Scanner
Einscan H2
The second generation EinScan H is a scanner equipped with advanced innovations, such as an integrated color camera that excels in high resolution, a wide field of view, and hybrid light sources.
This new scanner features versatile color capabilities, high accuracy, and the capacity to precisely capture challenging surfaces like hair. The new EinScan H2 is ready to elevate your projects to new heights.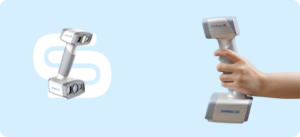 Increased Accuracy: With unparalleled precision of up to 0.05 mm and a resolution of up to 0.2 mm, the EinScan H2 achieves an unprecedented level of detail.
Vibrant and Realistic Colors: The EinScan H2 integrates a 5MP camera that ensures sharp, lifelike colors, resulting in precise 3D models.
High Performance on Dark and Reflective Surfaces: By utilizing not just one, but three VCSEL projectors, the scanner effortlessly adapts to various lighting conditions. This allows for better and easier scanning of dark and reflective surfaces than ever before.
Innovative Algorithm for Hair Scanning: The EinScan H2 introduces an entirely new algorithm that effortlessly scans both light and dark hair, producing stunning results.
There are various software options available for scanning with the EinScan H2.
Discussing possibilities
To place an order with us, you need to have an organization account. Would you like to order orthopedic molds and/or 3D prints? We have our own order portal for our customers, where you can place orders and track their status.
Don't have an account yet? Please contact us to gain access to the order portal.