White Light Scanner
M4D Scan
The M4D Scan is one of our most accurate 3D scanners. With its precision of up to 0.05 mm, this scanner offers extremely high accuracy.
The scanner is both precise and swift. Additionally, the scanner is designed to detect slight movements, making it the ideal choice for scanning patients who find it challenging to remain perfectly still. Moreover, the M4D Scan seamlessly integrates with Rodin4D software.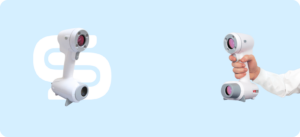 High-Quality Scans: The scanner rapidly and effortlessly captures dense point cloud data with precision, featuring an impressive point-to-point distance of up to 0.05 mm.
Motion Detection: Thanks to its powerful cameras, the scanner can detect slight movements and continue scanning seamlessly.
Safe Light Source: The LED lighting flashes are adjusted to ensure they are safe for use in medical conditions such as epilepsy.
There are various software options available for scanning with the scanner.
Discussing possibilities
To place an order with us, you need to have an organization account. Would you like to order orthopedic molds and/or 3D prints? We have our own order portal for our customers, where you can place orders and track their status.
Don't have an account yet? Please contact us to gain access to the order portal.