Rodin4D
Rodin4D- Fitflow
Introducing Fitflow: the software that makes 3D printing accessible. Enhance your productivity and achieve precise designs with just a few clicks.
Fitflow is crafted to simplify every stage of your workflow. With its user-friendly interface, even beginners can swiftly master the art of design, thanks to a library of available workflows: AFOs, knee braces, helmets, thumb orthoses, prosthetics, and more.
By automating repetitive tasks and streamlining processes, users can focus on what truly matters: crafting innovative and tailor-made orthopedic devices.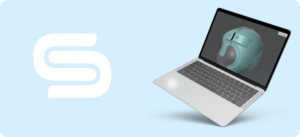 With FitFlow, users have the capability to establish their own workflows for the design and production of 3D-printed products.
The program's flexibility empowers the creation of unique products, allowing for a continuous avenue of innovation.
Discussing possibilities
To place an order with us, you need to have an organization account. Would you like to order orthopedic molds and/or 3D prints? We have our own order portal for our customers, where you can place orders and track their status.
Don't have an account yet? Please contact us to gain access to the order portal.