Software
The best possible CAD/CAM solutions for orthopedics.
As a distributor of various CAD/CAM software solutions for orthopedics, Shapemakers is an expert in providing advice, training, and addressing queries.
Shapemakers offers a range of software solutions designed to equip orthopedic technologists with digital tools. These tools streamline the process of manufacturing custom prosthetics and orthotics, making it faster and more efficient.
Through this software, orthopedic technologists can fully leverage the benefits of digitalization. Shapemakers provides training and support for all software solutions. If you encounter any challenges, we are always here to assist!
Rodin4D- Neo
Rodin4D- Fitflow
Toolkit3D- Mass customization
Rodin4D- Arkad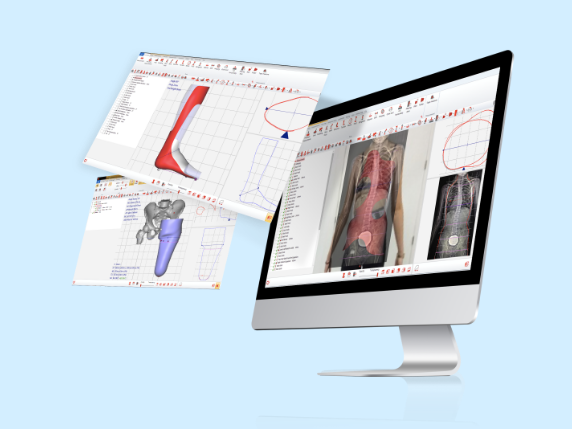 Rodin4D
Rodin4D- NEO
With Rodin4D's NEO software, orthopedic technicians can replace traditional plasterwork with a digital counterpart. This software provides access to potent tools, customizable libraries, and a user-friendly interface.
Thanks to the digital library, the need for a physical inventory is eliminated. In cases of model loss, the digital file is always retrievable and reproducible.
NEO empowers technicians to translate their measurements into the digital realm, offering flexibility, efficiency, and ease of use. In essence, it's the ultimate tool for orthopedic technicians.
Lees meer
Furthermore, we also offer (semi) automatic machining software where a digital design of a model is custom-shaped based on A.I., using a 3D scan of the body part. This software enables Mass-customization, making personalized mass production possible.
Additionally, Shapemakers provides software for podiatry. This software allows digital design of orthotics, followed by the option to choose from various production methods.
Discussing possibilities
To place an order with us, you need to have an organization account. Would you like to order orthopedic molds and/or 3D prints? We have our own order portal for our customers, where you can place orders and track their status.
Don't have an account yet? Please contact us to gain access to the order portal.