Rodin4D
Rodin4D- Arkad
Arkad, the digital design tool for orthotic insoles. Whether you begin from a standard template or import a scan of your patient, you can seamlessly navigate through the design process of your orthopedic insoles step by step.
With our user-friendly software, you maintain complete control over the design process. Arkad has developed a specialized toolkit tailored to your professional requirements, which you can customize at any moment.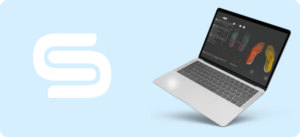 Time is a precious asset, and with Arkad Soft, you can save a great deal of it. You have the ability to endlessly reproduce your insoles, reuse your models, and access the complete history of your consultations. Thanks to the real-time 3D visualization, you can closely monitor all the changes being made to your insoles.
At Arkad, flexibility is at the core: whether you opt for flexible or firm soles, 3D-printed or milled insoles, you'll find all the conceivable options within one comprehensive solution.
Furthermore, Arkad provides its own scanning and printing environment through the Arkad Scan Application (available for iPhone & iPad) and the dedicated Arkad Multidensity Printer. With this printer, various densities can be incorporated into an insole, achieving the perfect solution.
Discussing possibilities
To place an order with us, you need to have an organization account. Would you like to order orthopedic molds and/or 3D prints? We have our own order portal for our customers, where you can place orders and track their status.
Don't have an account yet? Please contact us to gain access to the order portal.