iPad
Structure Sensor Pro
The Structure Sensor Pro is an excellent choice for creating precise 3D scans of patients. Thanks to its powerful LiDAR scanner, the Sensor Pro can quickly and accurately capture the shape of body parts.
The freedom of movement during scanning allows even hard-to-reach areas to be easily captured.
Furthermore, the high-resolution color camera of the Structure Sensor Pro provides realistic color images of the scans, which can be important for visualizing markers such as bone points. The flexibility and user-friendliness of the Structure Sensor Pro make this 3D scanner particularly suitable for orthopedics.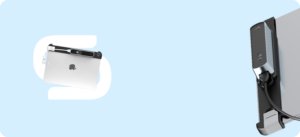 Excellent for orthopedics: The Structure Sensor captures dense point cloud data rapidly with precision, featuring a point-to-point distance of up to 4 mm.
Vibrant color accuracy: The Structure Sensor can capture vivid colors during scanning.
Eye-friendly comfort: The Structure Sensor employs invisible infrared light while scanning.
Freedom of movement: Thanks to its compact design and connection with an iPad, the scanner is wireless, granting users complete freedom of movement.
The Structure Sensor can be used with various types and generations of iPads.
There are several software options available for scanning with the Structure Sensor Pro.
Discussing possibilities
To place an order with us, you need to have an organization account. Would you like to order orthopedic molds and/or 3D prints? We have our own order portal for our customers, where you can place orders and track their status.
Don't have an account yet? Please contact us to gain access to the order portal.