Rodin4D
Rodin4D- NEO
With Rodin4D's NEO software, orthopedic technicians can replace traditional plasterwork with a digital counterpart. This software provides access to potent tools, customizable libraries, and a user-friendly interface.
Thanks to the digital library, the need for a physical inventory is eliminated. In cases of model loss, the digital file is always retrievable and reproducible.
NEO empowers technicians to translate their measurements into the digital realm, offering flexibility, efficiency, and ease of use. In essence, it's the ultimate tool for orthopedic technicians.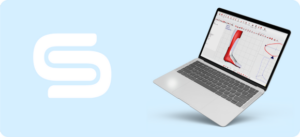 Thanks to the convenient tools NEO provides, users can save a list of operations to maintain a consistently high standard.
NEO offers complete freedom in operations, without any restrictions. Additionally, the Rodin4D axis system opens up countless possibilities.
Discussing possibilities
To place an order with us, you need to have an organization account. Would you like to order orthopedic molds and/or 3D prints? We have our own order portal for our customers, where you can place orders and track their status.
Don't have an account yet? Please contact us to gain access to the order portal.